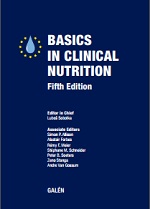 BASICS
IN CLINICAL NUTRITION
Fifth Edition
Editor-in-Chief:
Lubos Sobotka
Associate Editors:
Simon P. Allison
Alastair Forbes
Rémy F. Meier
Stéphane M. Schneider
Peter B. Soeters
Zeno Stanga
Andre Van Gossum
Format: 165 x 235 mm, paperback, 676 pages, 2019
ISBN 978-80-7492-427-9
Price: 1200 CZK
Actual prices in another currency are set based on daily exchange rate.
Annotation
Nutritional support and metabolic care are indispensable parts of patient care. Moreover, they have paramount potential for integrating almost all disciplines of medicine through their nutritional and metabolic aspects. The scientific progress in this field is exciting and the latest information transfers and reliable education are essential for their dissemination into broad clinical practice and also for improvement of nutritional and metabolic care standards. This is the principal goal of all editions of the »Blue Book« – Basics in Clinical Nutrition.
The first edition of this book was published exactly 20 years ago. Very positive reactions, together with creative criticism from readers, naturally led to new editions in 2000, 2004 and 2011. Each edition was enhanced and improved by the team of editors and excellent authors. The popularity and usage of this book have been outstanding and the » ESPEN Blue Book« was translated to nine different languages.
This exciting book allows the reader to receive basic information in the field as well as the latest scientific knowledge of all 127 contributors. The book is therefore the basis for all the educational activities of the European Society for Clinical Nutrition and Metabolism – ESPEN. We hope that it will be an important source of knowledge and of up-to-date information for physicians, dieticians, pharmacists, nurses and students and that it will help improve practice in clinical nutrition worldwide.
Key topics:
Basic concepts in nutrition
Nutritional physiology and biochemistry
Indications for nutritional support
Organisation and legal aspects
Substrates used for parenteral and enteral nutrition
Techniques of nutritional support
Enteral nutrition
Parenteral nutrition
Nutrition support in different clinical situations
Monitoring of nutrition support
Sport and nutrition

List of authors, Contents
Due to the restrictions related to COVID-19 made by Czech Post Office we are unable to ship to following countries: Albania, Armenie, Azerbaijan, Bermuda, Bolivia, Bosnia-Herzegovina, Botswana, Cayman Islands, Cyprus, Chad, China, Ecuador, Estonia, Fiji, Philippines, France, Grenada, Georgia, Guatemala, Guyana, Honduras, Chile, India, Indonesia, Iran, Italy, Israel, Latvia, Malta, Mauritania, Moldavia, Mongolia, Nepal, Northern Macedonia, New Zeland, Panama, Peru, Republic of Montenegro, Russia, Rwanda, Samoa, Senegal, Saudi Arabia, Slovenia, South Africa, South Korea, United Arab Emirates, Sri Lanka, Suriname, Tunisia, United Arab Emirates, Uzbekistan, Zimbabwe Be advised that the list of countries can change in the future.

ESPEN
The European Society for Clinical Nutrition and Metabolism
General terms and conditions of business for the internet store
---
Contact:
Galen
Na Popelce 3144/10A
150 00 Prague 5
Czech Republic
E-mail: prihonska@galen.cz